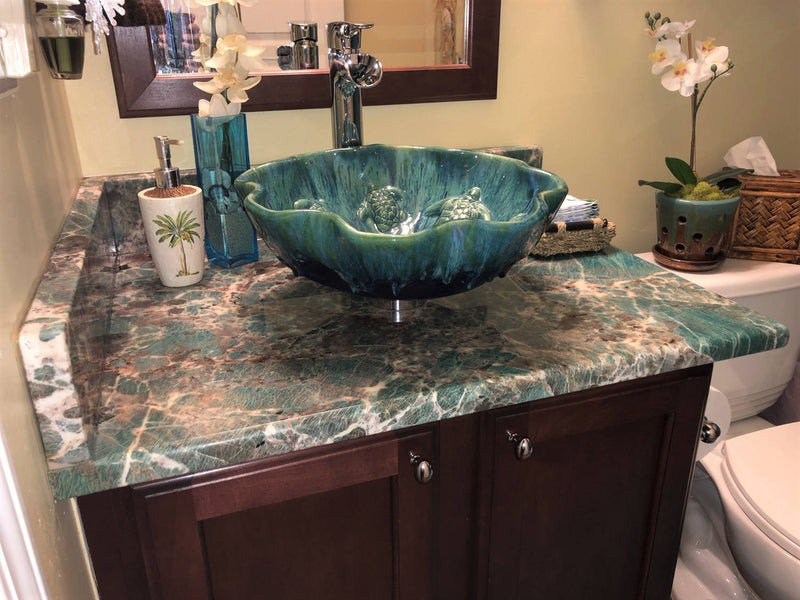 Albert's Journey: The Art of Ceramic Bathroom Sinks
Albert, a passionate artist, always sought new ways to infuse his work with intrigue and uniqueness. One fateful day, he visited a friend residing in a lavish Makena Beach home. As he entered the powder room, he was greeted by a breathtaking sight: a bathroom sink that offered sweeping views of Lana'i, Haleakalā, and the south Maui shoreline. The stunning beauty of this otherwise utilitarian object left him entranced, and little did he know, it would become the wellspring of one of his most distinctive art forms.
This remarkable sink was crafted from clear acrylic and infused with a kaleidoscope of colors that had been meticulously baked into its form. Albert was instantly captivated and believed he had stumbled upon a new artistic style, one that would be simple to execute. However, art often takes unexpected turns. Right from the outset, he grappled with challenges - sink rims cracking, drain holes filling up with glaze. The road was fraught with frustration, yet he refused to relinquish the challenge, compelled by an unwavering determination.
Our journey takes a detour from the sink to explore the process of creating tiles, a path that ultimately led him to perfect the design of ceramic bathroom sinks. His vision was to craft tiles swiftly, infused with a Hawaiian 3D theme reminiscent of his other ceramics. In pursuit of this dream, he learned of a craftsman in Seattle who had invented a machine for making tiles. Albert wasted no time and made the journey to Washington State, where he arrived at a glass art studio he was associated with.
While this studio primarily specialized in glasswork, particularly above-glass bathroom sinks, they had perfected the art of crafting glass sinks to a tee. Drawing inspiration from their expertise, Albert returned home to implement their techniques. He married these processes with his signature 3D Hawaiian designs, and the result was nothing short of spectacular. The demand for his sinks with vibrant 3D designs soared, and today, clients from across the globe proudly display these exquisite bathroom sinks in their homes, complemented by ceramic artworks that elevate their spaces.
Albert continues to introduce new items to his ceramic collection, each capturing the vibrant hues of nature and enhancing the ambiance of homes and businesses. To stay updated with his latest designs, be sure to sign up for his newsletter.
Residents and visitors to Maui are warmly invited to visit Albert's studio, open Monday to Saturday from 9 A.M. to 5 P.M., with after-hours visits available by appointment (808-633-3396). You can also find his creations at the Maui Swap Meet on Saturday mornings from 7:00 am to 12:00 pm, located at the University of Maui's back parking lot, across from the Maui Arts & Cultural Center in Kahului, HI 96732-1643.
Mahalo, Albert D. Molina