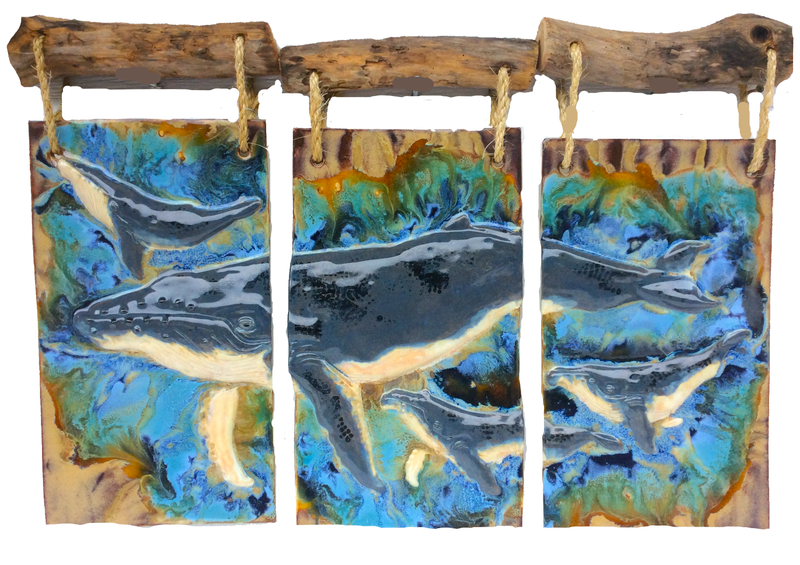 Since 2005, I've been collecting driftwood from the serene shores of Maui's Puakukalo Beach, using this unique and beautiful resource to craft one-of-a-kind ceramic pieces. Puakukalo Beach holds a special place in the hearts of locals and visitors alike, drawing in families, surfers, divers, fishermen, canoe paddlers, and beachcombers to its pristine shores.
Driftwood, with its distinct character, adds a touch of tropical Hawaiian art to beach houses and modern themes. I carefully attach this driftwood to a range of iconic Hawaiian designs, including sea turtles, Maui humpback whales, Mahi-mahi "dolphin," humuhumunukunukuapua'a fish, palm trees, sharks, plumeria flowers, and other native elements.
The driftwood itself varies in color, texture, and shape, offering a unique piece of nature's artistry. It's especially abundant during periods of high surf, making each piece a journey from other parts of the Hawaiian Islands and around the world. Every design I create is marked by its exceptional and distinct appearance, ensuring that no two are ever identical. Each piece carries a splash of Maui's essence.
For those who prefer a more versatile option, we offer the same exquisite relief design without the driftwood, allowing you to use it as wall art, a kitchen backsplash tile, a bathroom shower tile, or an indoor/outdoor decoration.
To make hanging your piece hassle-free, we attach a sturdy wire hook to the back. Detailed instructions are provided to guide you through the process, ensuring that your art is displayed securely. The choice of hooks may vary based on your wall type, such as drywall or cement.
Our ceramic pieces come in a range of sizes and weights, with descriptions to help you make an informed choice. Crafted from clay body porcelain and stoneware and glazed at Cone 5, our creations reflect the natural beauty of Maui.
Cleaning your art is a breeze – just wipe it with a damp paper towel and then dry it with another. Our meticulous packaging ensures safe and damage-free delivery, with free shipping in the USA via UPS within 7-9 days.
I'm continuously introducing new additions to my ceramic collection, capturing the vibrant hues of nature to enhance the ambiance of homes and businesses. Stay updated with the latest designs by signing up for my newsletter.
Whether you're a resident or a visitor to Maui, you're warmly invited to visit my studio, open Monday to Saturday from 9 A.M. to 5 P.M., with after-hours visits available by appointment (808-633-3396).
You can also find my creations at the Maui Swap Meet on Saturday mornings from 7:00 am to 12:00 pm. Join us at the University of Maui's back parking lot, located at 310 W Kaahumanu Ave, across from the Maui Arts & Cultural Center in Kahului, HI 96732-1643.
Mahalo, Albert D. Molina