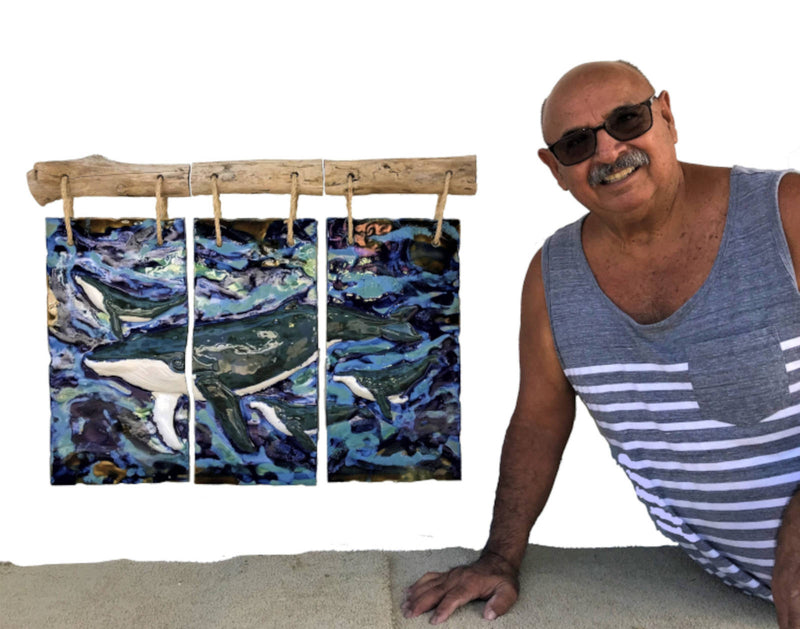 Albert's ceramics are not just art; they are an irresistible invitation to elevate your living spaces into a realm of luxury. These versatile creations can adorn your walls, invigorate your kitchen with a stunning backsplash, rejuvenate your bathroom, transform your pool and Jacuzzi areas, and revamp your indoor and outdoor surroundings. Lovingly crafted on the picturesque island of Maui, they embody the very essence of Hawaii.
Each ceramic masterpiece is a harmonious blend of vivid colors and intricate relief designs, featuring captivating motifs such as turtles, pineapples, palm trees, humpback whales, and more. They are designed to complement and enhance your entranceway, living room, bathroom, kitchen, or office décor, and convenience is key, as each piece comes equipped with a secure wire hook for effortless hanging. Albert's ceramics are not just visually stunning; they represent a commitment to perfection.
They feature the finest cone five glazes available in the USA, promising safety with their non-toxic formulation. These glazes undergo a fiery transformation, with temperatures exceeding 2135 degrees, resulting in breathtaking, one-of-a-kind hues. Crafted from a blend of porcelain and stoneware clay, these pieces exhibit an extraordinary shine and unmatched durability. Support Albert's artistic journey by visiting his website and become the proud owner of these remarkable pieces that encapsulate the very heart of Hawaii.
This is more than just a purchase; it's an investment in the artistry of paradise. Don't miss this golden opportunity to infuse your life with the beauty of Hawaii – seize the moment and bring home a piece of the islands today!"